何謂金匱 • Understanding Safe
何謂金匱 • Understanding Safe
何謂金匱? 什麼是金匱??? ...必也正名乎...
【金匱】的說文解字
金製的藏書匱,古代國家祕藏重要文書的地方,另比喻縝密之意。漢書˙卷四十九˙錯傳:「刻於玉版,藏於金匱,歷之春秋,紀之後世。」唐˙劉禹錫˙送分司陳郎中祇召直史館重修三聖實錄詩:「重修東觀帝王書,常時載筆窺金匱。」
【保險櫃】的說文解字
保存現金或貴重物品的保險櫃。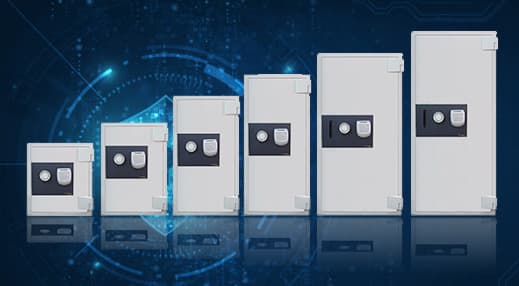 【現代正解版】
根據教育部編撰國文辭典的說明,以上四種名詞幾乎都是在形容同樣的物品,而現代人大都採用保險櫃(箱)或是金庫的名詞來作為解釋。不過仔細的分析其文字涵義會發現還是可以分類說明得更清楚一點...

金庫的[庫]比較接近庫房的意思,應該是解釋為一間房間大小的倉庫空間,像似現代銀行所採用的金庫室,而這類通常都會用到金庫門。保險櫃的[保險]似乎是以投保了附加的商業保險定義之,且[櫃]字從木旁,比較像似木製的櫃體。
鐵櫃在現代的安全分類是屬於僅僅採用鐵板成型(內部未含任何防盜填充材料),然後用同樣材料的鐵製門,加裝上鎖具的一種箱體而已。往往此類型的防盜安全概念較為薄弱,以目前國際級的安全測試項目裡這是屬於較低層防盜效果的箱型產品。

真要為這金屬的箱型物品定出一個較為中庸又貫穿古今的用法...[金匱] 不失為一個很好的選擇。但這金匱的本質就必須是要符合現代安全概念所設計出來的防盜防火設備,而同時這金匱也可以定義為現代專屬個人的儲存空間。

常有人問到,為什麼要買金匱 ?
就算再沒錢的人~~多少也都有一些屬於個人隱私的物品或文件,這些東西總要有個能夠讓人安心的存放空間,何況心安神泰則噩夢不生;無後顧之憂方能勇往直前。也許我們在追逐名利的累積卻忽略了為自己安置一個財庫;也許我們不懂玄學命理,但我們總該擁有不准任何人侵犯隱私空間的權利吧!

挑一個好金匱和好的金匱供應商,如同為自己及後代子孫建立一個永續傳承的基礎,百年之後或是千年之後,至少還有人會為您留下的傳家之寶歌頌一番...。
What does it mean by Safe?
What is Safe? Does the name really imply to what it meant?
The explanation of "Safe":
In ancient time, the locker made of gold was used to store important papers and document. It is also a metaphor of tight sealing. According to the 49th scroll of written document of Han Dynasty: "Hide the engraved treasures in the golden locker in order to hand them down to later generations." In San-sheng recorded poem written by Liu Yu-xi of Tang Dynasty to Chen Lang-zhong on renovation of Qi Zhao Zji Historical Court, it stated that: "While renovating the court, I often see Emperor Tongguan writing and storing the papers in the golden locker."
These explain that "security locker"
is an iron cabinet used to store cash or valuables.
The so-called "safety box"
is referred to as a box made of sheet iron with asbestos interlining, and a special keypad or a lock on the door.
The current explanation version from now:
"Safe" is referred to as: The security safe used to store cash or valuables.
"Iron cabinet" is referred to as: A cabinet made of sheet iron.
According to explanation from Chinese dictionary compiled by the Ministry of Education, the above four terms almost described a same item, but most modern people adopt to use safes (boxes) to explain them. However, a careful analysis of the meaning of the text, we can still classify and describe them more specifically.
The vault has a closely meaning to warehouse, where it should be interpreted as a room having the size of a warehouse space similar to the vault adopted by modern banks. These vaults usually come with a vault door.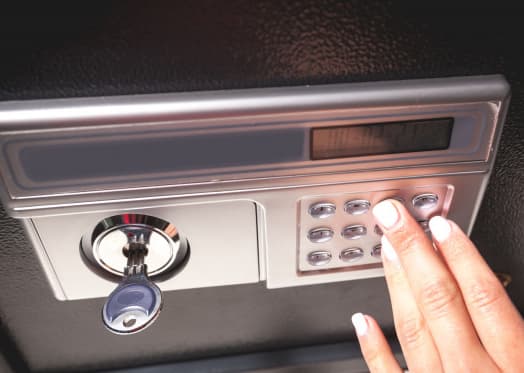 The "insurance" of safe seems to explain that it has been insured with an additional commercial insurance. The wooden character by the side of "cabinet" text seems to signify a cabinet made of wood.
Based on modern classification, iron cabinet is referred to as a box unit formed by sheet iron (without any anti-theft interlining), and comes with a similar iron door and a lock. Such item often gives us an impression of weak anti-theft function, and, according to current international safety tests, it belongs to a box product with low anti-theft effect.
It is indeed a good choice for us to use this cabinet-shaped product, or better known as "safe" that has been used in the past until present time. But the quality of this safe equipment must have anti-theft and fire resistant functions to comply with the modern safety concept, and that this safe can also be defined as an exclusive personal storage space.
People often ask. Why do we need to buy a safe?
No matter how little money you have, you tend to own some personal private possessions or documents, and these things ought to be placed in a safe storage space to let you sleep at ease and move forward without worries. In the course of pursuing fame and fortune, we might have ignored to install a safe for our own self. We might not understand metaphysics and numerology, but we must not be deprived of privacy rights and infringed by anybody!
Picking a good safe and a good safe supplier is just like building a sustainable heritage foundation for yourself and your future generations. Perhaps a hundred years or a thousand years later, somebody will thank you for the family heirlooms you left behind.