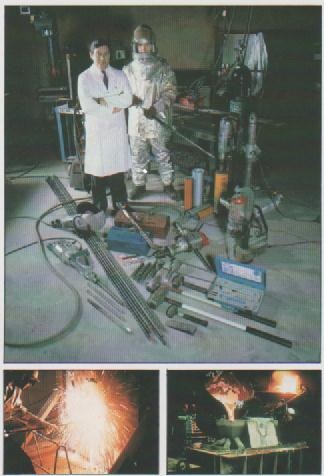 國際安全標準:
防盜標準與安全認證:
二十世紀以前全世界尚無任何測試金庫安全等級的單位,Chubb 於是在Wolverhampton 成立了研發測試中心,專門針對櫃體材料的防盜能力作研發測試。時至今日可將此測試中心定出的金庫櫃體防盜材料的標準(從低而高)依序增項為 Anti-Tools、Anti-Disc cutting、Anti-Power Drills、Anti-Diamond Dril、EDR.、TDR.、Anti-Arc、Anti-Lance和Anti-Explosives 等等。

後來歐美及其他各國相繼成立的的安全測試認證單位無不參考 Chubb原先設計的測試規範,進而產生現今各家不同的版本。為讓消費者辨別這些不同版本的分類與差異,傳家寶將目前市場上歐美亞各洲不同的安全測試認證歸納成下列安全等級對照表以供參考。
International Safety Standards:
Security standards and safety certification:
As there were no units responsible in testing any security levels of safes in the world before the 20th century, Chubb has decided to set up a research and testing center at Wolverhampton to specifically perform anti-theft ability tests on the materials of safe body.
Today, the test center has established standards for materials of anti-theft safe body. The ranking from low and high are: Anti-Tools, Anti-Disc Cutting, Anti-Power Drills, Anti-Diamond Drill, EDR, TDR, Anti-Arc, Anti-Lance and Anti-Explosives, etc. Later on, the safety testing and certification units established by Europe and other countries have no choice but follow the original test specifications set up by Chubb, and produced different versions as we found today. To allow consumers to distinguish the differences between the varied classification versions, the CJB has summarized different European, American and Asia safety certifications available on the market into the following comparison table to serve as a reference.

安全等級對照表 SVRI Guide
(參考SVRI比較金庫的安全等級分類表) American Safe & Vault Registry
Registry Ranges
安全等級
破壞工具、時數和人數
(鑿穿櫃體的通孔範圍小於6.5平方公分)

美規標準
(UL)
歐規標準
(CEN)
亞規標準
(CCC)
傳家寶分類
Burglary 0
(適用保險櫃的測試標準)
Time restriction=15min.
people=1

B-Rate
C-Rate

All plate-
steel

All safes- on wheel
Grade-0

Level-S1

Level-S2

CCC=A0
防盜第零級
Burglary 1
(適用保險櫃的測試標準)
Time restriction=15min.
people=2



TL-15
Grade-1
CCC=A1
防盜第一級
TL-15X6
Grade-2
CCC=A2
防盜第二級
Burglary 2
(適用保險櫃的測試標準)
Time restriction=30min.
people=2


TL-30
TL-30/6
Grade-3
CCC=B1
防盜第三級
Burglary 3
(適用保險櫃的測試標準)
Time restriction=30min.
people=2


TRTL-15
TRTL-15/6
Grade-4

CCC=B2
防盜第四級
TRTL-30
TRTL-30/6

Grade-5
CCC=B3
防盜第五級

(以下皆為大型高安全金庫室的測試標準)
TRTL-60
Class –M
(Vault)
CCC=C
防盜第六級

Class-1
(Vault)
防盜第七級

Burglary 4

Time restriction=1 hour
people=no limited
Tools=no limited
Class-2
(Vault)
防盜第八級
Burglary 5


Time restriction=2 hours
people=no limited

TRTL-60
Grade-6
Class-3
(Vault)
Grade-7
防盜第九級
Burglary 6

Set up in grades


TXTL



Grade-8
至
Grade-13

防盜第十級
以上




選用不同安全等級的客戶分類:




根據過去購買金庫客戶群的使用分類,可以概略的統計如下四大類:




(一)防盜第0級至第1級的客戶群:


小型餐飲業,
便利商店,
一般家庭,
公司行號...


(二)防盜第2級至第3級的客戶群:


企業的財務主管,
注重安全的家庭或個人,
小型銀樓珠寶店和特種營業場所...


(三)防盜第4級至第5級的客戶群:


豪宅和極注重安全的家庭個人使用,
大公司財務部或重要金融機構,
大型銀樓珠寶等特種營業場所,
國際知名銀行金庫或保管箱室使用,
國際知名精品店...


(四)防盜第6級以上的客戶群:


特殊需求,
特別訂做...
Safe Usage Classification:
If the usage classification is based on past procurement of golden safes by customers, they can be statistically classified into 4 categories:
(1) Customer ethnic group of security level 0~1: Small restaurants, convenience stores, general household, companies, etc.
(2) Customer ethnic group of security level 2~3: Head of corporate finance institutions, safety-conscious families or individuals, small pawn shops and jewelry stores, and special business premises, etc.
(3) Customer ethnic group of security level 4~5: Luxury houses, and highly safety-conscious families, finance department of large companies or major financial institutions, large pawn shops, jewelry stores and other special business premises, internationally renowned bank vaults or safe deposit box rooms, internationally renowned boutiques, etc.
(4) Customer ethnic group higher than security level 6: Custom-made safes with special requirements, etc.